Green Chilly, Lemon and Ginger Pickle
It is a recipe that has been passed in our homes from times unknown as every North Indian home has some version of it. Mustard seeds and lemon juice is used to ferment green chillies, lemons and ginger along with some spices to give it the right taste. We add some rock salt, red chilly powder, mustard seeds, fennel seeds, fenugreek seeds. Our pickle is a part of most of our meals as it is tangy, spicy and a good digestive as ginger and green chilly help to digest food better, lemon helps regulate acidity. All three main ingredients are a loaded with health benefits. It adds flavour, taste and zing to a good meal thereby enhancing a meal. One needs to refrigerate it once the souring process is completed or else it continues with the fermentation.
Ingredients:
•  Natural lemons.
•  Natural Ginger.
•  Natural Green Chilly.
•  Rock Salt.
•  Red Chilly Powder.
•  Natural Haldi Powder.
•  Mustard Seeds.
•  Fennel Seeds (Saunf).
•  Methidana.

Why Svaguna
Green chilly, ginger and lemon pickle is made from natural green chilly, ginger and lemon that are grown on our natural farms in Madhya Pradesh and Bihar. We make them in North Indian style with no oil and minimalistic ingredients for the flavour and taste. It is in pure form helping retain the aroma, flavour and the taste of the lemons, ginger and green chilly.
Note:
One should refrigerate the pickle when one wants the souring process to stop as otherwise it will continue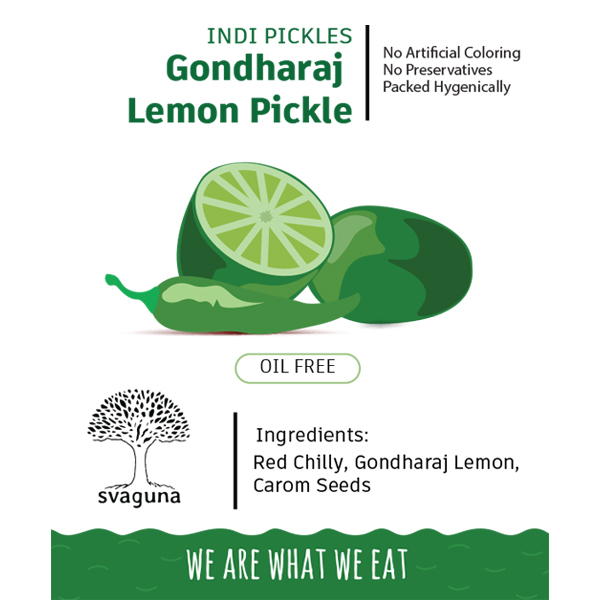 Gondharaj Lemon Pickle